Skip to Main Content
It looks like you're using Internet Explorer 11 or older. This website works best with modern browsers such as the latest versions of Chrome, Firefox, Safari, and Edge. If you continue with this browser, you may see unexpected results.
Copyright Questions?
The University of Michigan Library Copyright Office provides help with copyright questions for University of Michigan faculty, staff and students. Please email us with questions or visit our website for more information.
Legal Advice
The information presented here is intended for informational purposes and should not be construed as legal advice. If you have specific legal questions pertaining to the University of Michigan, please contact the Office of the General Counsel.
If you require legal advice in your personal capacity, the lawyer referral services operated by the Washtenaw County Bar Association and the State Bar of Michigan may be helpful to you.
What is Open Access?
Open access (OA) scholarship is available online and can be read for free. It is often available for use and sharing without the copyright and licensing restrictions commonly placed on published works. By making their work available in this manner, authors ensure that the broadest possible audience can read and use it, without limiting it to only those who are affiliated with research libraries or can afford costly journal subscriptions.
Open access is not defined by a particular business model or type of content. Rather, open access is an approach to sharing one's work with the wider world.
To learn more about open access, consult the resource below.
Open Access by Peter Suber

This book covers the basics of open access, including definitions, history, business models, funding, and much more. It is available for free as an open access ebook. It is also available for purchase in paper.
Open Access Explained, by PhD Comics
Open Access Options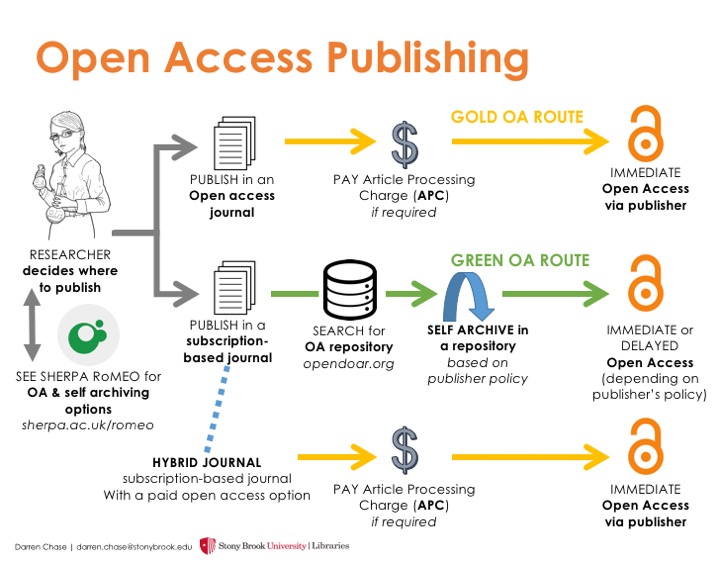 The above graphic is by Darren Chase at the Stony Brook University Library and is licensed CC BY-NC 4.0.
You have three options when choosing to make a journal article open:
Publish in an explicitly open access journal, which might involve paying an article processing charge (APC)—a fee that is commonly used to offset the lack of paid subscriptions to support the journal.
Publish in a hybrid journal that uses both open access and subscription models for making its content available to readers. APCs for these journals can be just as high (if not higher) than open access journals. High-profile journals and publishers in a number of disciplines are developing hybrid options for authors who choose (or are required by funding mandates) to make their work open.
All three options will allow you to share some version of your work with the wider world. However, your decision will likely depend on two key factors:
This combination of factors can produce many different results. For example, early-career scholars often have access to fewer research funds or grants to cover publication charges, and often feel pressure to publish in particular journals in order to satisfy tenure requirements. These individuals might choose to publish in a subscription journal and make use of other means to provide access to their work. Scholars who work with translational research and who want to ensure their materials will be available to communities beyond the academy might choose an open access journal to ensure the broadest possible access to their work, regardless of fees. Some researchers might have publication requirements imposed upon them by funding agencies, mandating that they share their work openly in accordance with the funder's rules. It's even possible that a top journal in your field might have very author-friendly agreements, allowing you to publish your work in accordance with open access principles without having to compromise on your need (or desire) to have it appear in a particular journal.
The most important thing to remember is that there are many ways to make your work open. Choose the method that works for you and your co-authors.
Deciding to Go Open Access
Before deciding to publish in an open access journal (or any journal), learn about the default policies of the journals you're considering. They may already have open access friendly policies, even if they are not considered open access journals.
You should also look into your funding requirements. Some funding grants require you to publish your work open access. Make sure to double check your requirements before signing with a publisher. If you need help finding an appropriate publication venue, consult a librarian in your field.