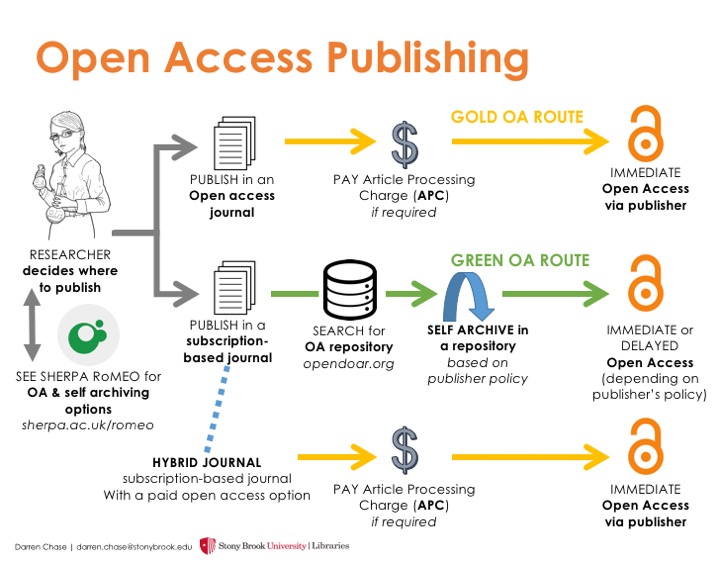 The above graphic is by Darren Chase at the Stony Brook University Library and is licensed CC BY-NC 4.0.
You have three options when choosing to make a journal article open:
Publish in an explicitly open access journal, which might involve paying an article processing charge (APC)—a fee that is commonly used to offset the lack of paid subscriptions to support the journal.
Publish in a hybrid journal that uses both open access and subscription models for making its content available to readers. APCs for these journals can be just as high (if not higher) than open access journals. High-profile journals and publishers in a number of disciplines are developing hybrid options for authors who choose (or are required by funding mandates) to make their work open.
All three options will allow you to share some version of your work with the wider world. However, your decision will likely depend on two key factors:
This combination of factors can produce many different results. For example, early-career scholars often have access to fewer research funds or grants to cover publication charges, and often feel pressure to publish in particular journals in order to satisfy tenure requirements. These individuals might choose to publish in a subscription journal and make use of other means to provide access to their work. Scholars who work with translational research and who want to ensure their materials will be available to communities beyond the academy might choose an open access journal to ensure the broadest possible access to their work, regardless of fees. Some researchers might have publication requirements imposed upon them by funding agencies, mandating that they share their work openly in accordance with the funder's rules. It's even possible that a top journal in your field might have very author-friendly agreements, allowing you to publish your work in accordance with open access principles without having to compromise on your need (or desire) to have it appear in a particular journal.
The most important thing to remember is that there are many ways to make your work open. Choose the method that works for you and your co-authors.